Maintaining a hygienic environment for you and your family is necessary to avoid contagious diseases and keep your home fresh and clean. However, when you are tired due to work or other things, your cleaning tasks can become your last priority. The best alternative to meeting your impeccable home cleaning needs is to find the best residential cleaning services near you.
If there's one thing the pandemic has taught us, it's that you can never be too picky with the sanitation and air quality in your home or apartment. If you're still not sure you want to let our professional house cleaners do the cleaning for you, check out the benefits listed below:
Your home is where you should be most comfortable, and no one wants to live in a house that is not as clean as it could be. However, more important things quickly fill up your schedule and soon enough, dirt, grime, and dust begin collecting in your home.
Cleanliness plays an important role in the comfortable atmosphere of your home, but numerous homeowners simply do not have the time to do the housekeeping because of their busy lives. At Nettoyage Imperial, we understand that a clean home is a happy home, which is why we are proud to offer complete residential cleaning.
In addition to the obvious, there are certain parts of your house that you can't reach or that you don't have time to clean as carefully as you'd like due to your busy schedule – shelves, air vents, underneath your shades, window coverings, dirty floorboards, and even more! When your house needs a really deep clean, it's better to trust a professional cleaning service.
At Nettoyage Imperial, deep cleaning means more than just wiping down counter tops and scouring the sink. We believe that the best residential cleaning services offer an in-depth, clearly defined experience and pays attention even to the smallest of details. We use a personalized approach in all our cleaning services to make sure your home is cleaner than you ever could have imagined. We only use 100% organic and eco-friendly products.
You can trust our expertise when it comes to commercial and residential cleaning services in Montreal and the surrounding regions.
We are able to offer these services thanks to our new cleaning and efficient spray disinfecting techniques. We find that this spray disinfection technique creates a healthy and clean environment, homogenizes the disinfection process, and automatically disinfecting contaminated surfaces.
Our services include:
MAINTENANCE AND CLEANING
We wash windows and blinds
We wash walls, windows, and floors.
We offer regular maintenance services
Targeted cleaning services (home appliances, inside of closets, walls, and ceilings, etc.)
Restoration services (cabinets, closets, garage, etc.)
We maintain rugs, carpets, and upholstered furniture
 REGULAR MAINTENANCE
As we already said, not everyone is able to clean their house. For some people, balancing family and work life is already hard enough without having to worry about daily cleaning tasks. For others, there may be a physical disability that makes residential cleaning impossible. We don't want your lifestyle to keep you from enjoying your personal domain. That is why we are offering to put our skills and experience to work and offer you a residential cleaning service. We are available to handle your residential cleaning needs as often as you need. We can come occasionally, on call, or regularly, weekly, or monthly. In all cases, we are here to cater to your needs.
For our regular cleaning services, we offer the following services:
WASHING AND POLISHING
Cleaning taps and mirrors
Cleaning floors
Cleaning the inside of microwaves
Cleaning the outside of home appliances
Cleaning bathtubs, showers, and toilets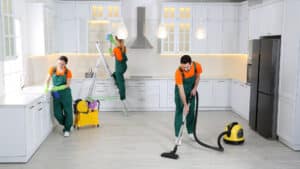 CLEANING AND DISINFECTING
Cleaning and disinfecting doorknobs.
Cleaning and disinfecting computer and television screens.
Cleaning and disinfecting closet doors and doorknobs
Cleaning and disinfecting counters and sinks.
Cleaning and disinfecting floors.
Cleaning and disinfecting trash cans.
Maintaining office furniture.
Eliminating stubborn marks and odors. VACUMING
Vacuuming floors, stairs, and rugs
Carpets and office chairs
Vacuuming carpets, upholstered furniture, and underneath cushions.
DUSTING
Dusting vertical and horizontal furniture surfaces.
Dusting door and window frames, lamps, heaters, windows, ornaments, etc.
Dusting lights, blinds, moldings, and baseboards.
BIG CLEAN UP
Also called spring cleaning, the big residential clean up cleans your home from top to bottom in order to make sure your home is completely clean. It usually takes place when the seasons change. Spring cleaning takes a lot of time and energy. But you don't have to worry, as we are available to efficiently do the job in your home. At Nettoyage Imperial, we have a full residential cleaning offer. We will clean your home fully without missing a single nook and cranny. Thanks to our experience and expertise, we can promise your home will sparkle like it's the first day all over again. This promise comes from our unique professional cleaning products and techniques. With our residential spring cleaning, we clean the inside of your home from floor to ceiling, walls to furniture. We offer a specialized spring-cleaning service with the following benefits:
Cleaning closets and their contents
Maintaining windows and blinds
Deep cleaning the interior of stoves and refrigerators
Washing walls and ceilings, whether they are wet or dry
Cleaning rugs, carpets, and upholstered furniture
Washing windows
Why use a residential cleaning company?
You can get several benefits when you choose to hire a residential cleaning services company to help you maintain your home. In this article, you will get an idea of the known benefits of choosing to hire home cleaning services:
Hiring a residential cleaning service doesn't just mean you avoid the chore of cleaning. It also means that you have more time each week to spend on the important things. Whether it's time for a personal passion, friends and family, or the spa, hiring a cleaner will allow you to fill your life with the things you love most.
The pleasure of a clean home – Without the help of cleaning services, it's easy for your home to quickly get out of control. Dust collects in the nooks and crannies, stains build up in the kitchen, and the bathroom always needs to be disinfected. But with professional cleaning services, you come home to a beautiful home every day – a home you can love unconditionally.
When you choose to hire a cleaning services company, you can rest assured that your home will be professionally cleaned. Professional residential cleaning requires a certain amount of skill. Just because you know how to do your cleaning chores doesn't mean your home is free of harmful bacteria.
You should always hire a reputable professional residential or commercial cleaning company in your country.
You will have the freedom to choose the type of cleaning service that will suit your budget and home. However, if you do not have the budget to have every room in your home cleaned, you can inform the residential cleaning company of your choice.
Protecting babies, children, and the elderly – Polluted indoor air is more common than you think. Babies, young children, the elderly, and people with immune deficiencies and asthma need clean, fresh air. If you have anyone in these populations living with you, you can protect them from a range of unpleasant, uncomfortable, and dangerous health problems with our help.
Long-term savings – Your furniture, carpets, curtains, and blinds are precious. However, without regular deep cleaning with professional equipment and procedures, they begin to deteriorate. The fibers in carpets, upholstery, and draperies degrade, and blinds lose their smooth surfaces. You can help preserve the longevity of these precious items by cleaning regularly.
Many of our residential customers wisely choose to have this additional service performed every six months for carpets and blinds. Prevent the natural deterioration of fibers and surfaces by having our team professionally extract all contaminants and restore your items. Our truck-mounted carpet cleaning equipment produces truly superior results.
What is the difference between residential and commercial cleaning?
A residential housekeeping service specializes in cleaning your home. Services include cleaning floors, walls, windows, and more in kitchens, bathrooms, bedrooms, and other rooms. On the other hand, a commercial cleaning service cleans offices, buildings, retail stores, and other businesses. Services include cleaning bathrooms, common areas, offices, and trash collection.
The main difference between commercial cleaning and residential cleaning is the depth of the cleaning. Think of commercial cleaning or concierge services as a daily maintenance routine for businesses. In contrast, residential cleaning services are more detailed and comprehensive.
Keeping your home clean is our top priority
At Imperial Cleaning, we put the cleanliness and sanitation of your home at the top of our priorities. We care less about profit, and therefore, we offer our premium cleaning services at an affordable price. Pollution and climate change are ongoing problems with the high rate of modernization and urbanization in our community.
Not to mention that the spread of dreaded diseases due to viruses and bacteria is a global concern in all countries. All of these things lead to the need to keep your home hygienic and organized so that you can better protect the health of your children and loved ones.
All of our cleaning technicians are insured, professionally trained, and ready to help you with your tasks. All cleaners undergo initial training and field practice. In addition, we regularly monitor all work performed by our team.
Contact Imperial Cleaning today for more information about our different services!